31 July – 31 August
Our eleventh festival edition presented over 50 exhibitions and work by more than 100 artists alongside a series of public commissions, an ambitious international project led by the festival and a month of special events. The 2014 Commissions Programme included a special focus on emerging talent, with 3 new works and 3 performances by emerging Scottish artists co-commissioned with Talbot Rice Gallery; and in a new partnership with the Skinny, a special Showcase exhibition profiling the work of recent graduates.
"Whether you stumble into a boutique gallery seeking respite from the hustle and bustle, or come for the pictures alone, the Edinburgh Art Festival is a force to be reckoned with"
Violet Hudson, Harper's Bazaar
Commissions Programme
Remembering the Future
'It is a poor memory which only works backwards' says the White Queen to Alice, in Lewis Carroll's Through the Looking Glass.
2014 represented an extraordinary convergence of moments, a year when we remembered the past and imagined the future, in a series of anniversaries which resonated locally, nationally and globally, as well as a referendum to determine the future status of Scotland as an independent nation. Of course how we imagine the future depends entirely on how we remember the past. Recent discoveries in neuroscience reveal that to do each requires us to use identical parts and processes of the brain. Memory (both personal and collective) shapes our sense of who we are, and who we want to be. This close connection between past memory and future possibility permeated our festival projects for this edition, with projects by Jacqueline Donachie, Craig Coulthard, Yann Seznec and Nalini Malani.
Participating Artists:
Craig Coulthard: The Drummer and the Drone
Jacqueline Donachie: Mary and Elizabeth
Yann Seznec: Currents
Nalini Malani: In Search of Vanished Blood
View the Commissions Programme Leaflets:
Counterpoint Commissions, Co-commissioned with Talbot Rice Gallery
Shona Macnaughton: The Plan of the Principal Story
Michelle Hannah: Statue
Ellie Harrison: After the Revolution, Who Will Clean Up the Mess?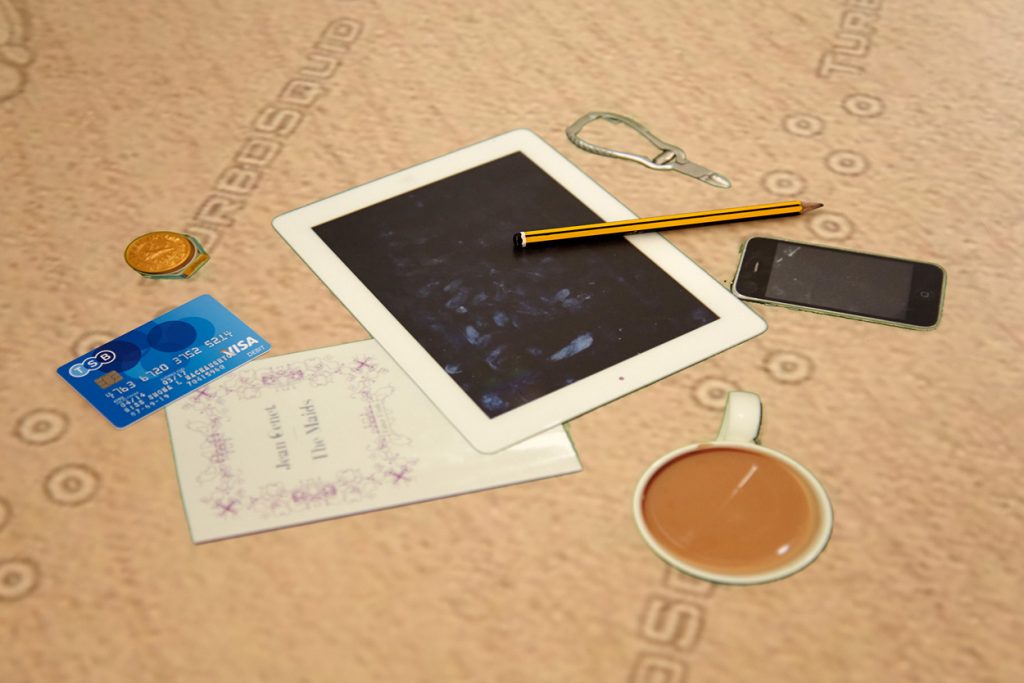 Where do I end and you begin
In addition to our Commissions Programme, 2014 saw a significant evolution in our programming, with our first Festival-led exhibition, developed in partnership with City Art Centre. Bringing together five curators and 23 artists from countries around the commonwealth, Where do I end and you begin explored notions of commonwealth, community and the commons.
The exhibition was held over four floors at City Art Centre and at several offsite locations across the city, including a significant presentation of works by Amar Kanwar and Shilpa Gupta at the Old Royal High School on Regent Road.
Exhibition Curators:
Aaron Kreisler (Dunedin, New Zealand)
Kathleen Ritter (Vancouver, Canada)
Richard Hylton (London, UK)
Thembinkose Goniwe (Johannesburg, South Africa)
Vidya Shivadas (New Delhi, India)
Participating Artists:
Amar Kanwar (New Delhi, India)
Antonia Hirsch (Berlin, Germany)
Arpita Singh (New Delhi, India)
Brian Jungen and Duane Linklater (Vancouver and North Bay, Canada)
Derek Sullivan (Toronto, Canada)
Emma Rushton and Derek Tyman (Manchester, UK)
Gavin Hipkins (Auckland, New Zealand)
Kay Hassan (Johannesburg, South Africa)
Kushana Bush (Dunedin, New Zealand)
Mary Evans (London, UK)
Mary Sibande (Johannesburg, South Africa)
Masooma Syed (New Delhi, India)
Naeem Mohaiemen (Dhaka, Bangladesh/New York, USA)
Pascal Grandmaison (Montreal, Canada)
Rebecca Belmore (Winnipeg, Canada)
Shannon Te Ao (Wellington, New Zealand)
Shilpa Gupta (Mumbai, India)
Steve Carr (Auckland, New Zealand)
Tam Joseph (London, UK)
Uriel Orlow (London, UK)
Yvonne Todd (Auckland, New Zealand) 
Partner Exhibitions
Urban/Suburban at City Art Centre
Ross Sinclair: 20 Years of Real Life; Marie- Michelle Deschamps and Observers' Walks: Tris Vonna-Michell at Collective
Dalziel + Scullion: Tumadh: Immersion and Current Exchanges: Dovecot and the Australian Tapestry Workshop at Dovecot Studios
Masters Festival and Roderick Buchanan: Charlotte Squared at Edinburgh College of Art
Jim Lambie at The Fruitmarket Gallery Katie Paterson: Ideas at Ingleby Gallery
Katie Paterson: Earth-Moon-Earth; Mick Peter: Popcorn Plaza; Tessa Lynch: Raising and Jessica Harrison: Broken at Jupiter Artland
GENERATION: 25 Years of Contemporary Art in Scotland at the National Galleries of Scotland
The Art of Golf: The Story of Scotland's National Sport at the Scottish National Gallery
American Impressionism: A New Vision at the Scottish National Gallery of Modern Art
John Byrne: Sitting Ducks and John Ruskin: Artist and Observer at the Scottish National Portrait Gallery
Ming: The Golden Empire and Danie Mellor: Primordial: SuperNaturalBayiMinyjirral at the National Museum of Scotland
Alt-w at New Media Scotland
Leon Morrocco: Recollection; Keith McCarter: Art in Architecture and Scottish Masters: Painting and Printmaking at Open Eye Gallery
Poetry for the Palace: Poets Laureate from Dryden to Duffy at The Queen's Gallery
Genesis & Lady Jaye Breyer P-Orridge: Life as a Cheap Suitcase; Susan Hiller: Re-Sounding; Claude Closky: 10, 20, 30 and 40%; FAILE & Bäst: FAILE Bäst Deluxx Fluxx Arcade Edinburgh 2014; Gary Baseman: Mythical Homeland; Antonio O'Connell: Virus; Kennardphillipps: Demo Talk; Tamsyn Challenger: Monoculture; Caroline McNairn: Dreaming of Heroic Days; Augustin Rebetez: Meteorite; Birgir Andresson: The Northernmost North, and Lindsay Todd: The Living Mountain at Summerhall
Counterpoint at Talbot Rice Gallery
Associate Programme
John Byrne: Dead End at Bourne Fine Art
Calum Colvin: The Magic Box at Edinburgh Printmakers
Paul Carter: Icaro Menippus [x2] at Edinburgh Sculpture Workshop
Janie Nicoll: Rough Edit and Alessandro Di Massimo: I'll Be Your Mirror at Interviewroom11
Captain Lightfoot Presents… at The Glasshouse at Lauriston Castle
An attempt at exhausting a place (in Edinburgh) at The Manna House Bakery and Patisserie
Villa Design Group: The House of Adelaida Ivanovna at Ocean Terminal
Kevin Harman: Open Studio at the Old Ambulance Depot
Augusto Corrieri and Vincent Gambini at Rhubaba
Open Dialogues at the Royal Scottish Academy of Art and Architecture
A Corncrake in Charlotte Square at Scottish Poetry Library
The King's Peace: Realism and War at Stills
GENERATION: TG at Travelling Gallery
The Skinny Showcase at Creative Exchange